Nursing Support
At Geisinger, we've built a culture of kindness and support that extends beyond patient care. We regularly come together to lift each other up, whether that's through our PTO donation program where employees have donated 10,000 PTO hours to help colleagues who welcomed a new baby, or our expanded benefits package that includes fertility coverage and added adoption assistance.
As a member of our vital nursing support team, you'll be given the tools you need to deliver the necessary technical and clinical services to patients across our system. For over 100 years, we have been committed to the service of caring for our communities and each other.
Key roles
There are various unlicensed and technical roles that are vital to the Geisinger team including:
Patient Care Unit Assistants
Patient Care Unit Assistants play a key role in supporting our nurses to perform a wide range of clerical duties and direct patient care activities.
Nursing Assistants and Surgical Technicians
Nursing Assistants and Surgical Technicians are the most popular of many opportunities.
Nursing Assistants without experience
Nursing Assistants without experience are offered education in the Nursing Assistant Residency program — a two-week course offered in collaboration with local community colleges (Central Susquehanna Intermediate Unit, Harrisburg Area Community College, and Lackawanna College).
Technicians
Technicians in various fields — radiology, surgery, cardiology — have many opportunities to expand skills and build rewarding careers.
Geisinger Nursing Scholars Program
Career development program for employees to pursue a career in nursing.
Benefits and support
Tuition assistance
Through our tuition reimbursement program, eligible employees can now receive up to $3,000 per year toward an undergraduate degree and up to $5,000 per year toward a graduate-level degree. Active full-time and part-time employees (0.5 FTE or greater) are eligible for tuition reimbursement. Employees must be in active status on the first day of classes, and at the time of reimbursement payout.
Scholarships
Scholarships are available to support nurses (both RNs and LPNs) returning to college for advanced nursing degrees. Scholarships are offered at various times throughout the year to supplement the Tuition Reimbursement Benefit. We are thankful to the many generous scholarship donors that support nursing education.
Geisinger Nursing Scholars Program
A comprehensive program that provides financial, educational, and well-being support for employees who would like to become a registered nurse.
Our Geisinger Family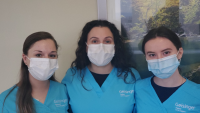 We enjoy working at Geisinger because we feel like an essential part of a team! We are able to come together and use each other's strengths to provide outstanding patient care! Our teamwork has carried us through a lot during the pandemic and brought us closer. Our Geisinger team is family!
Geisinger Nursing Support Team